The face-to-face marketing opportunities found at live events, experiential events, traditional retail spaces, meetings, conferences, and trade shows will always be the most preferred way to connect with customers and prospects.
But if you're not pivoting to virtual experiences — building an online presence that fits your brand — you're missing out on some incredible benefits for both your brand and your customers and prospects.
Taking your marketing virtual will actually expand your audience engagements by increasing the flexibility in the execution of those engagements. It will also allow you to capture more robust data.
Book Now: Elevate your brand with virtual marketing environments. Schedule a FREE demo now.
Sounds exciting, right?
Let's jump into the top seven benefits of virtual environment marketing:
1. Increases Customer and Prospect Engagement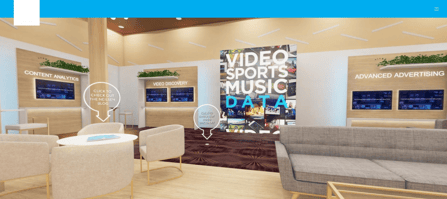 There are so many options for engagement when it comes to virtual environments. Check out some of our favorite suggestions here.
With face-to-face marketing events, there are tons of logistics and details to handle in creating, producing, and executing each event. While the reward is getting in front of your customers and prospects, it also makes hosting multiple types of events time-consuming and expensive.
One great benefit of investing in a virtual environment is that it can house all of your existing content in one spot. It can also be used for many different kinds of brand marketing engagements. And if updates are needed, it is much more cost-effective in the virtual space.
2. Creates a Competitive Creative Advantage
Your virtual environment is the place to showcase your brand and even experiment with different designs and applications.
If the platform is customizable to your needs, you can add in as many or as few features as you want to create the ultimate brand experience for your users.
"If you want to stay ahead of your competitors, you need to keep your potential customers longer on your homepage by allowing them to interact with your services."
As you know, websites are a critical tool for communicating information to audiences. But virtual environments really take things to the next level by letting your consumers actually engage with your products and services.
Competitive virtual marketers know they must go beyond the simple click of a mouse and cumbersome text to keep audiences engaged with their brand. This can easily be achieved by allowing exclusive access to your brand's virtual environment.
3. Skyrockets Sales Conversions
When users are immersed in your virtual environment, you have their full attention. Use this opportunity to allow your customers and prospects to interact with your product offerings. It's a great way to implement "try before you buy" methods. People buy from people and brands they like is an old adage, after all.
When you have the opportunity to completely customize an interactive experience to your customers' needs, you're building trust with your audience. This will only lead to conversions and sales, and who doesn't want that?
4. Boosts Market Reach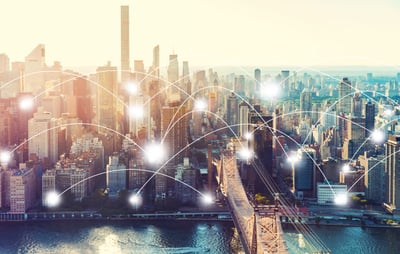 If you're planning a marketing engagement at a trade show in Chicago, or a pop-up retail event in Los Angeles, or a facility open house in Dubai … well, people need to either live there or travel to that spot to participate in the brand experience.
By shifting these events to your virtual environment, location is no longer a hindrance.
Not only will you be able to interact with customers and prospects on a national or even global level, but capacity and imagination expands as limits within a physical space are no longer an issue.
5. Amplifies Brand Awareness
Owning a virtual environment empowers marketers to meet their customers and prospects at the right moment. A multi-faceted platform allows for engagement and interaction in a variety of settings, which means you can meet your users in each stage of the buying journey.
By turning your sales funnel into an interactive experience, it encourages users to engage with your brand without feeling like they're being sold to. When you can guide your customers and prospects through an interactive space that has relevant content just for them, it's another way to build trust with your audience and increase brand awareness.
6. Enhances Customer Loyalty
When it comes to engaging customers, the interactive educational components in your virtual environment are an awesome way to nurture them with relevant content. Treat them to a memorable, fully immersive educational experience. If they walk away with knowledge of something new that they can actually apply in their lives, then you'll quickly gain a loyal customer base.
You can also use your virtual environment to host a VIP happy hour or customer appreciation event. There are so many creative ways to engage with your VIP customers. And when done right, they'll not only come back for the next one, they'll be excited about it.
7. Increases ROI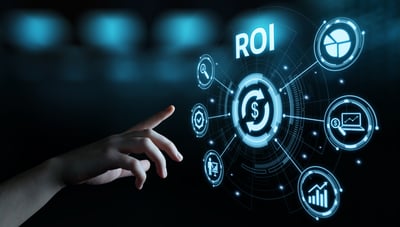 Investing in a virtual environment has the potential for an amazing ROI. Why? Because you're reducing the typical expenses relative to face-to-face marketing.
Think about all of the costs that add up in traditional events such as exhibiting at a trade show, producing an experiential event, traveling to a summit or a sales meeting, producing a user group, or hosting a corporate party. These face-to-face marketing events can cost anywhere from tens of thousands of dollars to millions of dollars per event.
Creating virtual marketing experiences costs considerably less — with the added bonus of the incredible benefits listed above!
Now that you're hyped up on all of the amazing benefits of owning a virtual marketing environment, why not book a FREE demo with us and take the next step in elevating virtual engagements for your brand?
Subscribe Here!